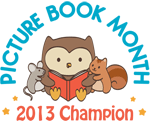 Happy Picture Book Month!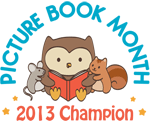 I am proud to be a 2013 Picture Book Month Champion!  
My guest post for the month-long celebration will be featured on November 7th at www.picturebookmonth.com, and I'm truly honored to be participating in this important initiative alongside so many of my picture book heroes.
Schools, libraries, booksellers, and book lovers around the world will come together throughout the month of November to celebrate print picture books. Now in its third year, the event has become a viral phenomenon. Thousands join the celebration, from the United States to Australia, Hungary, India, Jamaica, the Philippines, Singapore, South Africa, and the United Kingdom. Bloggers write about their favorite picture books using the daily themes on the Picture Book Month Calendar, created by Elizabeth O. Dulemba. Last year, a school in Budapest, Hungary, read over 6,000 picture books during the 2012 Picture Book Month celebration!
PictureBookMonth.com features daily essays from thought leaders in the children's literature community. My fellow 2013 Picture Book Month Champions are: David Adler, Dianna Aston, Rick Anderson, Larry Dane Brimner, Julie Danielson, Carmen Agra Deedy, Tomie dePaola, Rebecca Emberly, Sue Fliess, Zarah Gagatiga, Candace Fleming, Lee Harper, Jannie Ho, Steve Jenkins, Daniel Kirk, Jesse Klausmeier, Mercer Mayer, Bobbi Miller, Wendell Minor, Hazel G. Mitchell, Jerry Pinkney, Robert Quackenbush, April Pulley Sayre, Rob Scotton, Laura Vaccaro Seeger, Michael Shoulders, Wendi Silvano, Heidi Stemple, and Rosemary Wells.
Downloadable certificates, posters, and bookmarks created by Joyce Wan are available on the website, along with a new Teacher's Guide created by Marcie Colleen. The initiative is supported by the American Booksellers Association, the Children's Book Council, Reading is Fundamental, and the Society of Children's Book Writers and Illustrators, among others, as well as industry trade journals such as Hornbook and School Library Journal. 
To top it off, Katie Davis's "Brain Burps About Books" Podcast – the #1 kidlit podcast on iTunes – is dedicating the entire month of November to Picture Book Month… and Katie has created a lovely video celebrating what picture books mean to a number of beloved children's authors and illustrators.  Join the celebration!